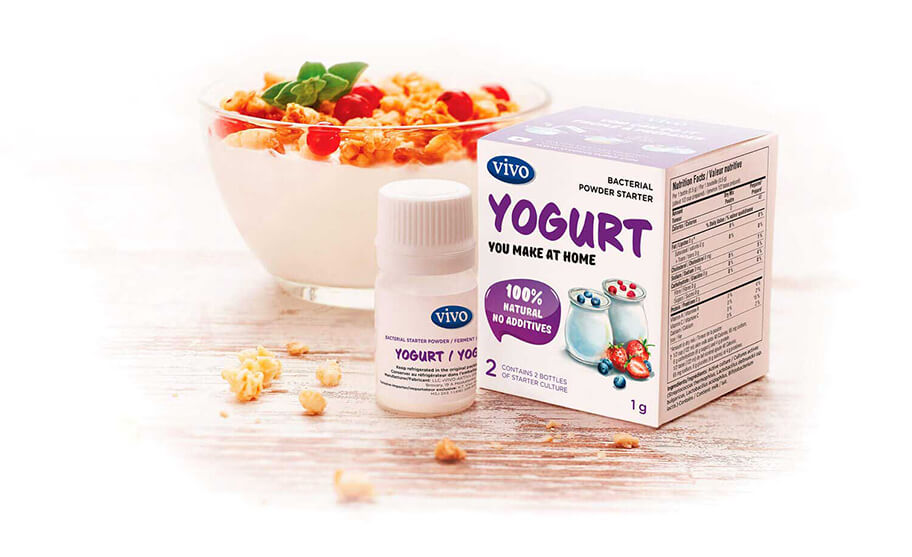 Starter cultures are bacteria used for making homemade yogurt
Make a healthy and natural yogurt at home.
Only milk and beneficial bacteria.
No additives.
BENEFICIAL
BACTERIA
ADVANCED BACTERIA
We use the unique strains of bacteria possessing beneficial characteristics
MORE BACTERIA
Ten times more bacteria than in traditional products
LIVING BACTERIA
Bacteria live and multiply, turning milk into yogurt
BETTER
YOGURT
FRESH
What could be fresher than a freshly homemade product?
WITHOUT ADDITIVES
No thickeners, stabilisers, colourings and flavourings. Unless you choose to add them yourself, but why would you?
KID-FRIENDLY
You have complete control over the process of making yogurt. Such a product can be given to babies beginning at six months
GOOD
FOR HEALTH
DIGESTION
Normalisation of digestion
METABOLISM
Boosting metabolism
IMMUNITY
Immune system reinforcement
MICROFLORA
Restoring the balance of intestinal microflora
Dry bacterial VIVO starters are a product which consists from live, friendly to human to organism of bacteria which are used for preparation of various fermented milk products in house conditions, and also as a probiotic.
These bacteria have a few features:
have pro-biotic properties which promote recovery of intestinal microflora and have useful influence on health of the person;
capability to ferment milk, help turn it into useful fermented milk product;
VIVO Starters are antagonists of many pathogenic microorganisms, and, as a result, resist to progression of many diseases.
Dry starters represent the lyophilized microorganisms (that is which are dried up by a special method). In case of such method of handling microorganisms plunge into anabiosis, and can be in "hibernation" long time. But, when bacteria's getting to warm milk, it become more active and begin to breed. As a result of them activity we also receive "live" fermented milk product.
In each of VIVO starters combinations of bacteria which have the unique properties and features are used. They are picked up in such a way that different groups interact and supplement each other. Exactly thanks to this symbiosis and carefully picked up strains of bacteria, Vivo ferments also differ in the unique useful properties, and the fermented milk products made on their basis — an excellent consistence and fine taste.