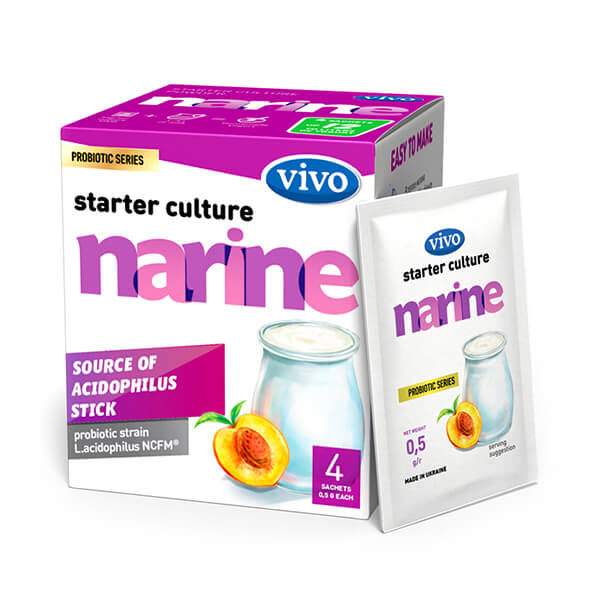 May be used in pure form

For Grownups and children from 6 years old
The species of the microflora Streptococcus thermophilus
Lactobacillus delbrueckii ssp. bulgaricus
Bifidobacterium lactis
Lactobacillus acidophilus

Narine
BASIC
Starter culture for the product "Narine"
Protects while taking antibiotics
Suppresses disease-causing bacteria
Narine is a starter culture for the preparation of a fermented milk product known as narine or acidophilic milk.
Narine is recommended for supporting the intestinal microflora while taking antibiotics and other drugs, in case of infectious diseases and food poisoning. Can be used by adults and children as a prevention and daily nutrition.
DETAILED INFORMATION
"Narine VIVO" is a starter culture for home-made product known as narine or acidophilic milk. It is a thick fermented milk product, that is very similar to yogurt by taste and consistency.
The starter culture is based on a special clinically investigated high concentration of Lactobacillus acidophilus NCFM®. These bacteria are highly resistant to gastric juices and are able to enter the intestines unharmed. They take root very well in the intestines, where they perform their main functions.
In addition to acidophilus bacillus, other probiotic bacteria are also included in the Narine starter culture, such as:
Lactobacillus delbrueckii ssp. Bulgaricus;
Bifidobacterium lactis;
Streptococcus thermophilus;
The presence of not only acidophilus bacillus, but also other probiotic bacteria in the composition makes this starter even more useful for the organism.
The fermented milk product "Narine VIVO" is suitable for use by adults and children and promotes:
Restoration of intestinal microflora;
Support and protection of the intestines while taking antibiotics;
Suppression of pathogenic bacteria, fungi and viruses;
Strengthening the immune system and reducing the risk of colds;
Detoxification of the organism and elimination of toxins;
Narine is especially recommended while taking antibiotics and other medicines. For infectious diseases, inflammatory processes and food poisoning.
It can be taken by both adults and children for prevention and daily nutrition.
CONSUMPTION WITHOUT RIPENING
Add the starter culture to boiled water at room temperature and stir. Take 1 sachet 1-2 times a day, immediately after meal for 1-3 weeks. For maximum effect it is advisable to combine the intake of a pure starter culture with the use of homemade fermented milk products.
+More info
+More info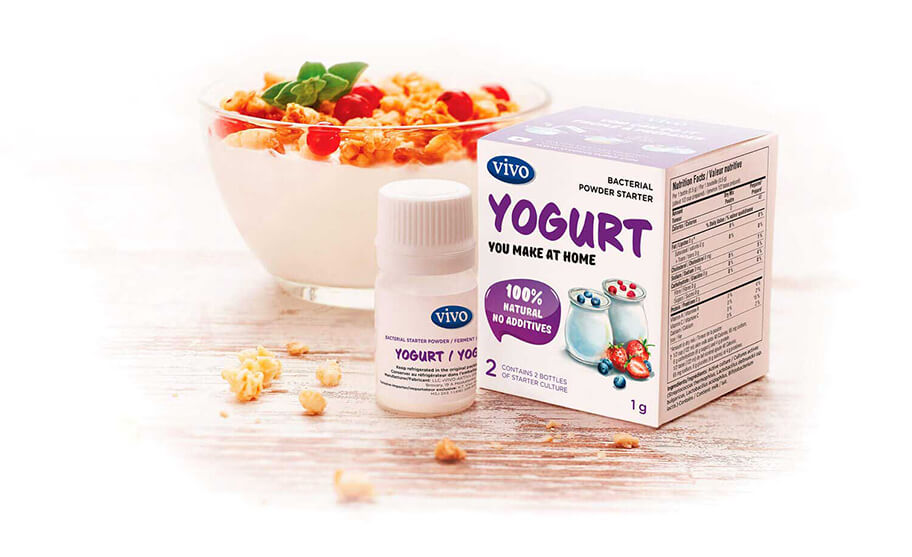 Starter Vivo it:
BENEFICIAL
BACTERIA
ADVANCED BACTERIA
We use the unique strains of bacteria possessing beneficial characteristics
MORE BACTERIA
Ten times more bacteria than in traditional products
LIVING BACTERIA
Bacteria live and multiply, turning milk into yogurt
MORE THAN
JUST YOGURT
FRESH
What could be fresher than a freshly homemade product?
WITHOUT ADDITIVES
No thickeners, stabilisers, colourings and flavourings. Unless you choose to add them yourself, but why would you?
KID-FRIENDLY
You have complete control over the process of making yogurt. Such a product can be given to babies beginning at six months
GOOD
FOR HEALTH
DIGESTION
Normalisation of digestion
METABOLISM
Boosting metabolism
IMMUNITY
Immune system reinforcement
MICROFLORA
Restoring the balance of intestinal microflora