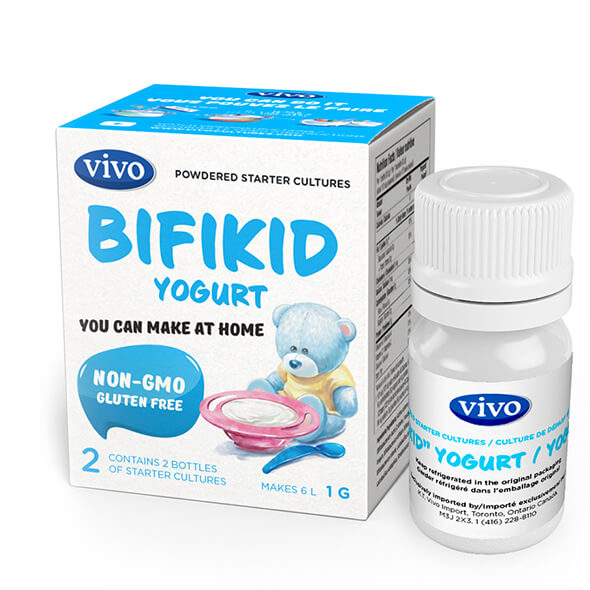 For adults and children from 6 months of age
The species of the microflora Bifidobacterium lactis (2 strains),
Bifidobacterium infantis,
Lactobacillus bulgaricus,
Lactobacillus acidophilus (2 strains),
Streptococcus thermophilus,
Lactobacillus paracasei
BIFIKID (BIFIVIT)
This culture is used for:To strengthen the immune system, Microflora Restoring, For children
Bifivit is used for feeding children aged 6 months and older. It helps to restore the microflora, strengthens the immune system, and prevents allergic reactions. Children like its taste very much.
Bifivit is a starter for homemade fermented milk drink. Bifivit is the most popular product favoured by children. It can be given to children from the age of 6 months Bifivit is often the first fermented milk product to be introduced to the baby's diet. Bifivit restores normal intestinal microflora during dysbacteriosis and dysbiosis, contributing to the preservation, promotion and recovery of health. Human-friendly bacteria contained in Bifivit actively multiply in the milk to create a thick fermented milk drink with a pleasant mild flavour and delicate texture. Health properties result from the high content of beneficial microflora cells (bifidobacteria, lactobacilli, lactococci) and their useful metabolites (polysaccharides, vitamins, fatty acids, enzymes, etc.) Bifivit includes bifidobacteria and lactobacilli of different species and strains. These bacteria perform the following functions:
Bifidobacteria
are involved in the protection of intestinal barrier function, preventing bacteria and toxins from entering the body;
show high antagonistic activity against pathogenic and opportunistic microorganisms;
participate in the recycling of food substrates and promotion of parietal digestion due to producing organic fatty acids;
synthesise amino acids and proteins, vitamin K, pantothenic acid and B vitamins, namely B1 — thiamine, B2— riboflavin, B3 — niacin, Sun — folic acid and B6 — pyridoxine;
promote intestinal absorption of calcium, iron and vitamin D.
Lactobacilli
during their life get involved in complex interaction with other microorganisms, resulting in inhibition of putrefactive and pyogenic opportunistic microorganisms, primarily Proteus, as well as agents of acute intestinal infections;
during normal metabolism are capable of producing lactic acid, hydrogen peroxide, lysozyme and other substances with antimicrobial activity such as reuterin, plantaricin, lactocidin and lactolin;
in the stomach and small intestine lactobacilli in cooperation with the host are the primary microbiological link in the formation of colonisation resistance; show high antagonistic activity against pathogenic and opportunistic microorganisms.
+More info
+Hide description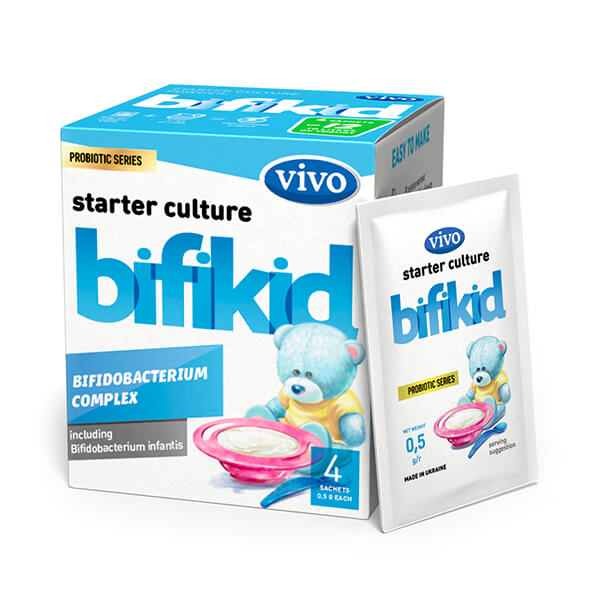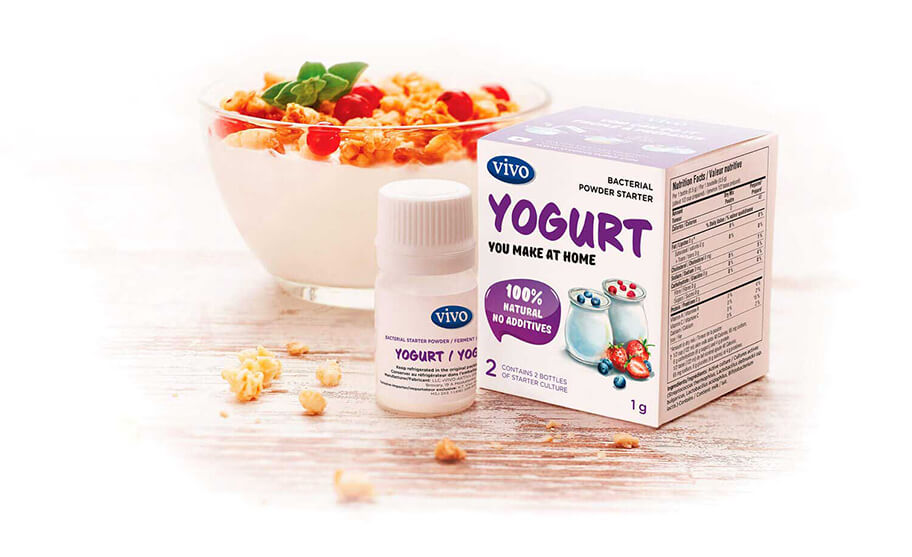 Starter Vivo it:
BENEFICIAL
BACTERIA
ADVANCED BACTERIA
We use the unique strains of bacteria possessing beneficial characteristics
MORE BACTERIA
Ten times more bacteria than in traditional products
LIVING BACTERIA
Bacteria live and multiply, turning milk into yogurt
MORE THAN
JUST YOGURT
FRESH
What could be fresher than a freshly homemade product?
WITHOUT ADDITIVES
No thickeners, stabilisers, colourings and flavourings. Unless you choose to add them yourself, but why would you?
KID-FRIENDLY
You have complete control over the process of making yogurt. Such a product can be given to babies beginning at six months
GOOD
FOR HEALTH
DIGESTION
Normalisation of digestion
METABOLISM
Boosting metabolism
IMMUNITY
Immune system reinforcement
MICROFLORA
Restoring the balance of intestinal microflora