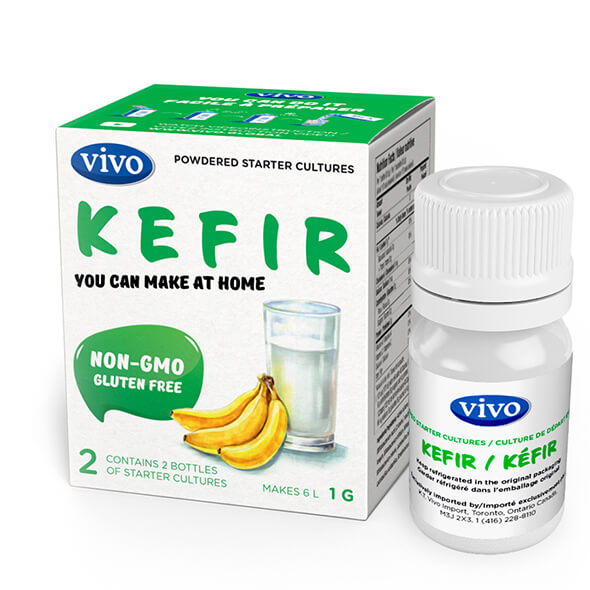 For adults and children from 6 months of age
The species of the microflora kefir yeast
Lactococcus lactis
Streptococcus thermophilus
Leuconostoc mesenteroides
Lactobacillus acidophilus
Bifidobacterium lactis
Lactobacillus delbrueckii ssp. Bulgaricus
Lactococcus lactis ssp. lactis
KEFIR
This culture is used for: For daily usage, For metabolism
The real delicious yogurt. It inhibits the growth of harmful bacteria - intestinal infections pathogens. Kefir improves metabolism and significantly reduces the risk of cancer. Kefir diet is especially useful for people who want to lose weight
VIVO Kefir is a starter for homemade kefir.
The starter contains unique natural symbiosis of the microflora of kefir fungi consisting of a variety of bacterial species and strains. This differentiates VIVO Kefir from a variety of products of biokefir series which have nothing to do with kefir fungi and contain only the lactobacilli and sometimes bifidobacteria.
Kefir bacteria inhibit the growth of malignant bacteria causing intestinal infections. Kefir has a beneficial effect on metabolic health and significantly reduces the risk of cancer.
Regular consumption of live-culture kefir increases the rate of metabolism. This helps to normalise body weight and body fat content.
VIVO Kefir is a real kefir with a flavour which everyone knows since childhood but which becomes increasingly hard to meet.
+More info
+Hide description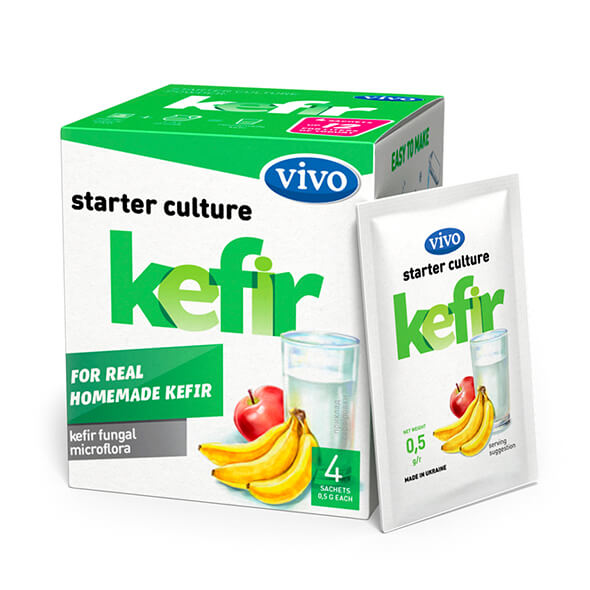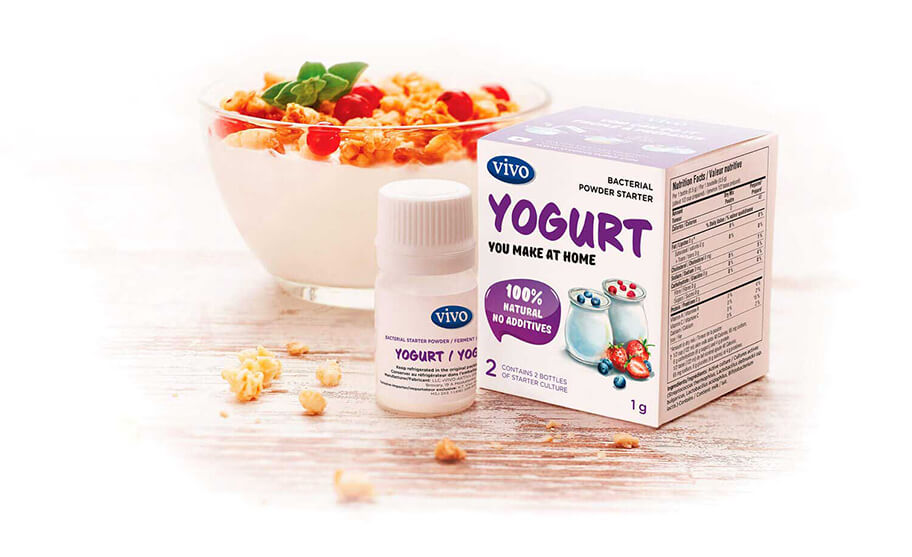 Starter Vivo it:
BENEFICIAL
BACTERIA
ADVANCED BACTERIA
We use the unique strains of bacteria possessing beneficial characteristics
MORE BACTERIA
Ten times more bacteria than in traditional products
LIVING BACTERIA
Bacteria live and multiply, turning milk into yogurt
MORE THAN
JUST YOGURT
FRESH
What could be fresher than a freshly homemade product?
WITHOUT ADDITIVES
No thickeners, stabilisers, colourings and flavourings. Unless you choose to add them yourself, but why would you?
KID-FRIENDLY
You have complete control over the process of making yogurt. Such a product can be given to babies beginning at six months
GOOD
FOR HEALTH
DIGESTION
Normalisation of digestion
METABOLISM
Boosting metabolism
IMMUNITY
Immune system reinforcement
MICROFLORA
Restoring the balance of intestinal microflora