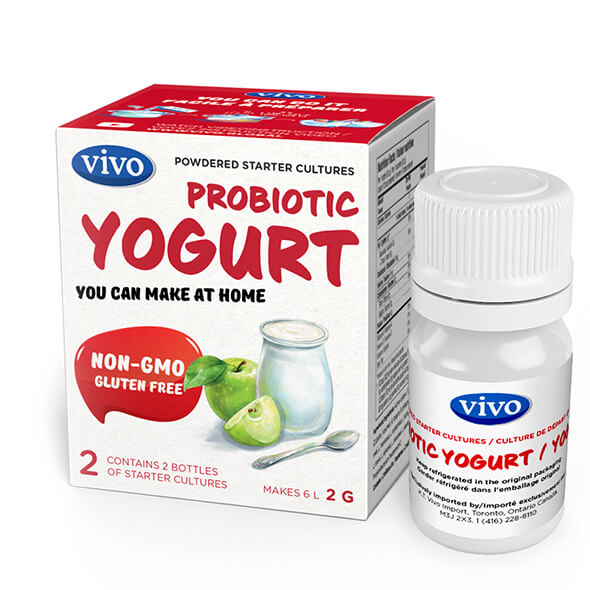 Can be used without fermentation
The species of the microflora Streptococcus thermophilus,
Lactobacillus delbrueckii ssp. Bulgaricus,
Lactobacillus acidophilus (2 strains),
Bifidobacterium lactis (2 strains),
Lactobacillus casei,
Lactobacillus rhamnosus,
Lactobacillus paracasei,
Bifidobacterium infantis
PROBIOTIC YOGHURT(SIMBILACT)
This culture is used for: To strengthen the immune system, Microflora Restoring, For pregnant women and nursing mothers, For metabolism, For daily usage
The probiotic of new generation. It contains the highest concentration of useful human friendly bacteria. Symbilact is an advanced product to recover the microflora both in the form of fermented milk beverage, and in pure form.
VIVO Symbilact is a starter for making fermented milk product Symbilact. It is an advanced probiotic with the highest concentration of beneficial bacteria. This property allows Symbilact to be used not only as a fermented milk product but also in its pure form without any fermentation.
Symbilact is the best starter for restoring normal microflora and inhibiting unwelcome microorganisms. It is equally efficient when used in its pure form and as a fermented milk product made from the starter.
Health properties of Symbilact:
restores and supports a healthy intestinal microflora
stimulates the growth and activity of own microflora (bifidobacteria and lactobacilli)
helps to reinforce the immune system and stimulates it to produce own interferon
helps resist intestinal infections and putrefactive bacteria
normalises digestion, improves peristalsis and prevents constipation
is effective when applied topically to combat bacterial and fungal infections of the skin and mucous membranes
Symbilact bacteria represent a complex blend of many strains of bifidobacteria and lactobacilli. Such a combination is called symbiosis, as each of the bacterial species increases the effect of the other.
Bifidobacteria
are involved in the protection of intestinal barrier function, preventing bacteria and toxins from entering the body;
show high antagonistic activity against pathogenic and opportunistic microorganisms;
by producing organic fatty acids participate in the recycling of food substrates and promotion of parietal digestion;
synthesise amino acids and proteins, vitamin K, pantothenic acid and B vitamins, namely B1 — thiamine, B2— riboflavin, B3 — niacin, Sun — folic acid and B6 — pyridoxine;
promote intestinal absorption of calcium, iron and vitamin D.
Lactobacilli
during their life get involved in complex interaction with other microorganisms, resulting in inhibition of putrefactive and pyogenic opportunistic microorganisms, primarily Proteus, as well as agents of acute intestinal infections;
during normal metabolism are capable of producing lactic acid, hydrogen peroxide, lysozyme and other substances with antimicrobial activity such as reuterin, plantaricin, lactocidin and lactolin;
in the stomach and small intestine lactobacilli in cooperation with the host are the primary microbiological link in the formation of colonisation resistance;
show high antagonistic activity against pathogenic and opportunistic microorganisms.
How to use starters in their pure form?
Add water to the vial and shake. Take 1 vial 1-2 times a day, immediately after a meal for 1-3 weeks. For maximum effect, it is desirable to combine the use of the starter in its pure form with the use of homemade fermented milk products.
+More info
+Hide description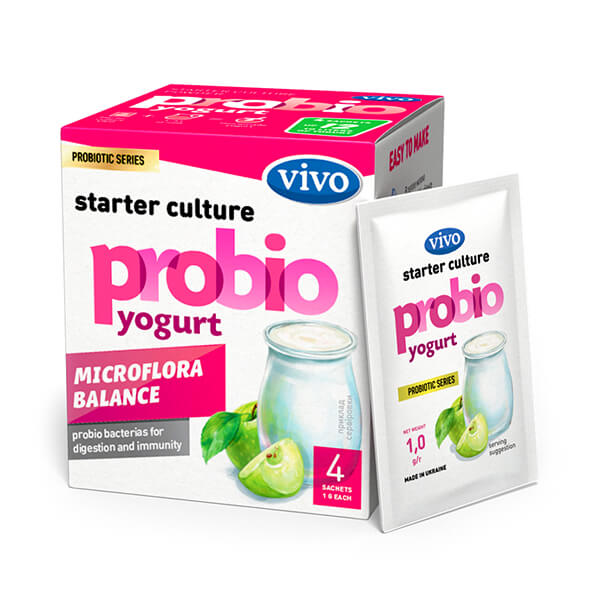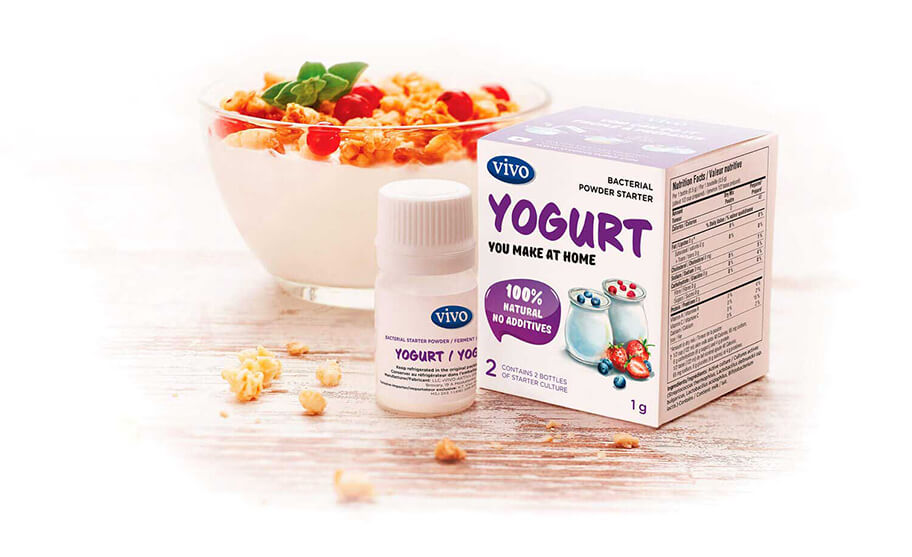 Starter Vivo it:
BENEFICIAL
BACTERIA
ADVANCED BACTERIA
We use the unique strains of bacteria possessing beneficial characteristics
MORE BACTERIA
Ten times more bacteria than in traditional products
LIVING BACTERIA
Bacteria live and multiply, turning milk into yogurt
MORE THAN
JUST YOGURT
FRESH
What could be fresher than a freshly homemade product?
WITHOUT ADDITIVES
No thickeners, stabilisers, colourings and flavourings. Unless you choose to add them yourself, but why would you?
KID-FRIENDLY
You have complete control over the process of making yogurt. Such a product can be given to babies beginning at six months
GOOD
FOR HEALTH
DIGESTION
Normalisation of digestion
METABOLISM
Boosting metabolism
IMMUNITY
Immune system reinforcement
MICROFLORA
Restoring the balance of intestinal microflora