Probiotic Vegan Yogurt
A new generation probiotic. Contains the highest concentrations of human-friendly beneficial bacteria. Vegan Probiotic Yogurt is an advanced preparation for the microflora recovery, both in the form of a fermented plant milk drink and in its pure form.
Most of the mainstream yogurt you buy at the grocery store is made with dairy,most commonly with cow's milk, but sometimes with sheep or goat's milk. This means it is not VEGAN. Vivo's unique formula allows you to make real VEGAN yogurt based on plant milk. Our starter culture includes12 different probiotics that will help you improve digestion, strengthen the immune system, and reduce inflammation in the body. We recommend making yogurt with soy milk, as it contains at least 7grams of protein per 100 grams of product. The more protein there is in the milk, the thicker the yogurt will be. To do this, see the nutrition fact section on the milk carton. Almond, rice and coconut milk have 1 gram of protein per 100 grams of product. This is not enough to make the yogurt thick. If you want to use these types of milk for making yogurt, you can try to add plant protein that is sold by Amazon.
VIVO Probiotic Vegan Yogurt is a starter culture for the fermented plant milk product. It is an advanced probiotic that contains the highest concentrations of human-friendly beneficial bacteria. This allows using Probiotic Yogurt not only as a fermented milk product but also in its pure form without a fermentation process.
Probiotic Vegan Yogurt is the best starter culture to restore healthy microflora or to displace unwanted microbes. Its effect is equally strong when used in its pure form and as the fermented milk product prepared with the starter culture.
+More info
+Hide description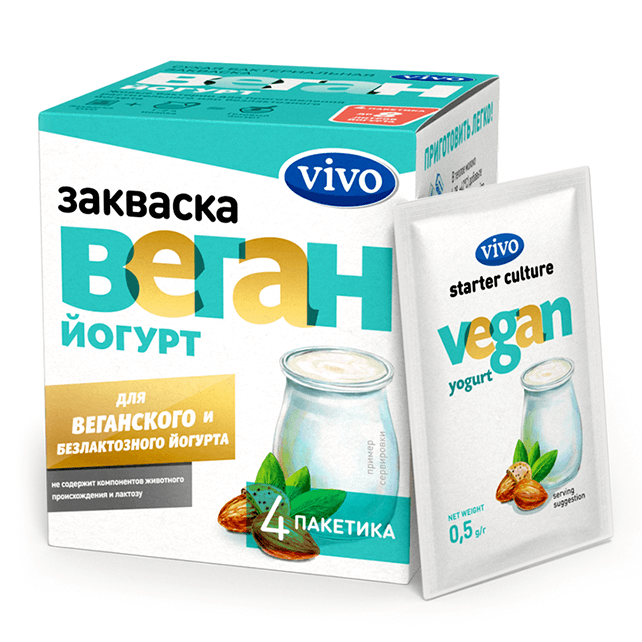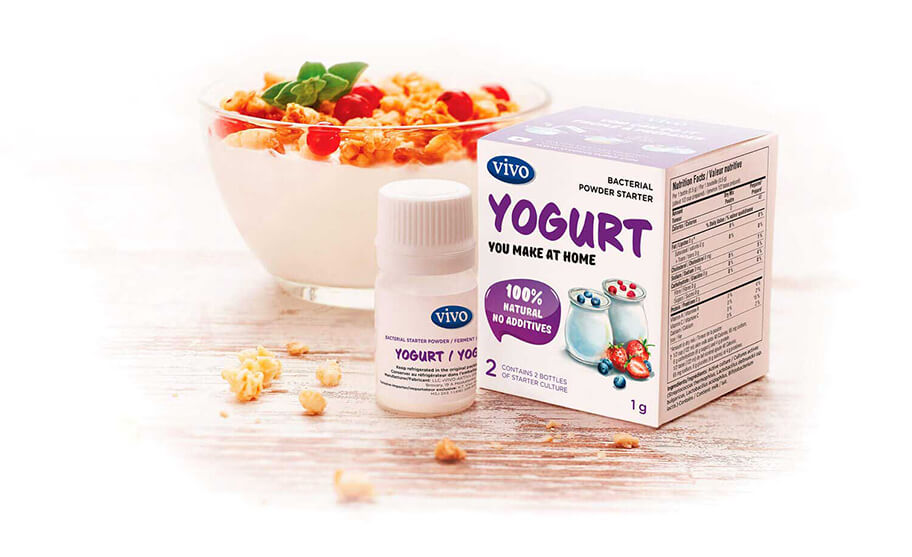 Starter Vivo it:
BENEFICIAL
BACTERIA
ADVANCED BACTERIA
We use the unique strains of bacteria possessing beneficial characteristics
MORE BACTERIA
Ten times more bacteria than in traditional products
LIVING BACTERIA
Bacteria live and multiply, turning milk into yogurt
MORE THAN
JUST YOGURT
FRESH
What could be fresher than a freshly homemade product?
WITHOUT ADDITIVES
No thickeners, stabilisers, colourings and flavourings. Unless you choose to add them yourself, but why would you?
KID-FRIENDLY
You have complete control over the process of making yogurt. Such a product can be given to babies beginning at six months
GOOD
FOR HEALTH
DIGESTION
Normalisation of digestion
METABOLISM
Boosting metabolism
IMMUNITY
Immune system reinforcement
MICROFLORA
Restoring the balance of intestinal microflora