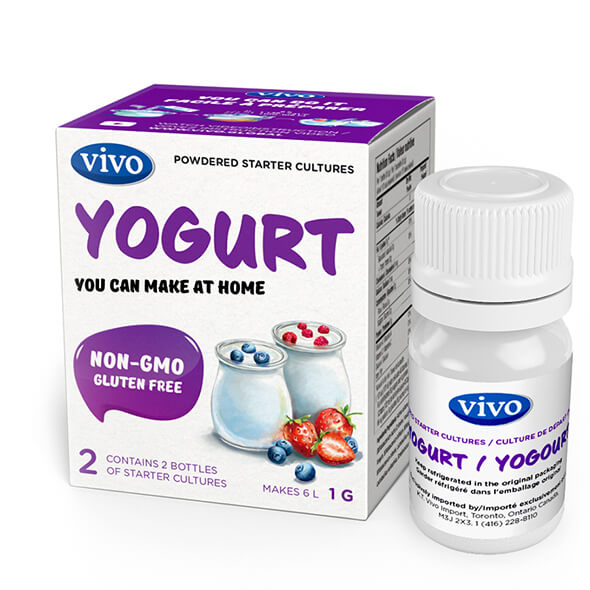 Can be used without fermentation

For adults and children from 6 months of age
The species of the microflora Streptococcus thermophilus
Lactobacillus delbrueckii ssp. bulgaricus
Lactobacillus acidophilus
Bifidobacterium lactis
YOGURT
This culture is used for: For daily usage, To strengthen the immune system, Microflora Restoring, For children, For pregnant women and nursing mothers
Delicious and popular product. Recommended for daily nutrition. Especially useful for children, elderly persons, pregnant women and nursing mothers.
VIVO Yogurt is a starter for homemade fermented milk product called yogurt.
Yogurt is a widespread product with amazing fresh fermented milk flavour. It is the most popular product for daily nutrition.
Yogurt contains lactic acid streptococci, three species of lactobacilli, Lactobacillus bulgaricus and Lactobacillus acidophilus. Working together, these bacteria produce high levels of lactic acid which has a detrimental effect on malignant bacteria. Drinking yogurt reduces the risk of digestive disorders and gastrointestinal infections.
Due to the ability to speed up metabolism yogurt helps control body weight and reduce the percentage of body fat.
Yogurt normalises the intestinal motility. It helps accelerate the excretion of toxic substances.
Yogurt quickly reduces the feeling of hunger and thirst. It is useful for people of all ages, especially the elderly, pregnant women and nursing mothers. Daily consumption of yogurt promotes fast recovery, satisfies the needs of the organism in amino acids, calcium salts, etc.
Regular consumption of live-culture yogurt increases the rate of metabolism. This helps to normalise body weight and body fat content.
+More info
+Hide description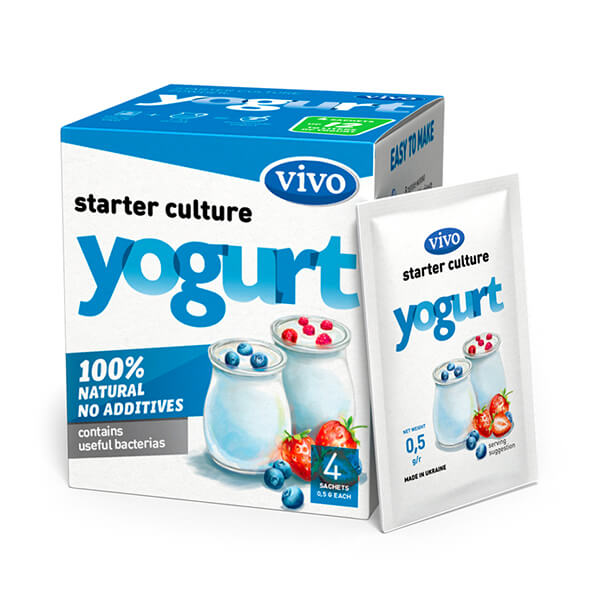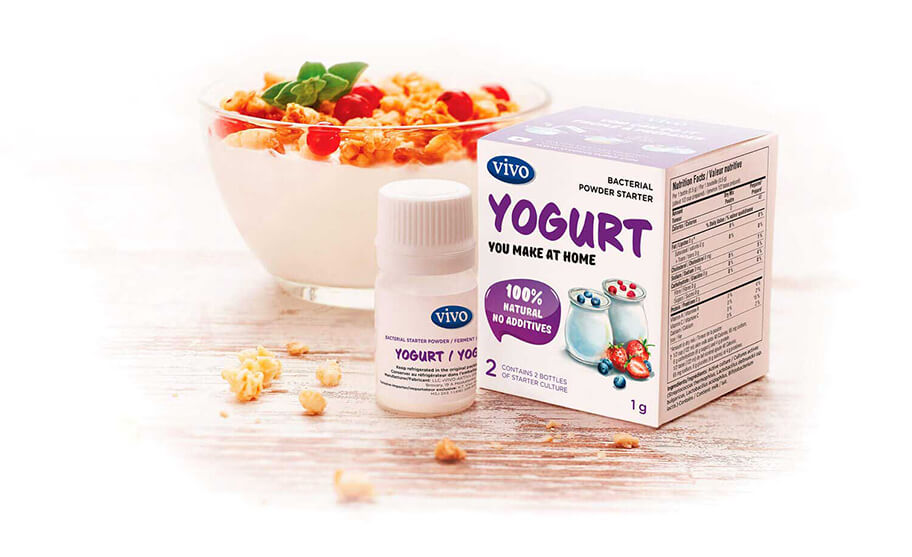 Starter Vivo it:
BENEFICIAL
BACTERIA
ADVANCED BACTERIA
We use the unique strains of bacteria possessing beneficial characteristics
MORE BACTERIA
Ten times more bacteria than in traditional products
LIVING BACTERIA
Bacteria live and multiply, turning milk into yogurt
MORE THAN
JUST YOGURT
FRESH
What could be fresher than a freshly homemade product?
WITHOUT ADDITIVES
No thickeners, stabilisers, colourings and flavourings. Unless you choose to add them yourself, but why would you?
KID-FRIENDLY
You have complete control over the process of making yogurt. Such a product can be given to babies beginning at six months
GOOD
FOR HEALTH
DIGESTION
Normalisation of digestion
METABOLISM
Boosting metabolism
IMMUNITY
Immune system reinforcement
MICROFLORA
Restoring the balance of intestinal microflora